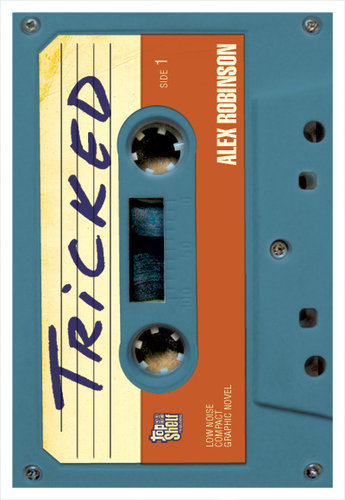 Tricked is one of those graphic novels that teases you with mysteries about the connections between its characters until the last possible moment. Some of those novels work, and some don't; Tricked works really pretty well, all told. There's a has-been rocker who hasn't written a decent song in years. There's a young woman who starts out working at his media company but becomes his personal assistant. There's a mentally troubled middle-aged man who's the rocker's biggest fan. There's also a waitress at a diner, a young woman who's trying to find her dad, and a man who's been lying to his wife while he works for a shady Russian collectibles salesman. They're all good characters. The problem is, I found the more minor characters more interesting than the major ones.
The story ends up circling around the washed up musician, Ray Beam. He's maybe the least interesting character in the book — pretty much a cliche of washed-up, out of touch, has-been rocker dude, who has sex with a dizzying array of identityless women while his agent and personal assistant run his life. I found the chapters that he was the center of relative slogs to get through, since his problems weren't really relatable to me.
Contrast that with Steve, an office worker who's recently stopped taking his pills. His decent from a relatively normal incel-type to a sad mental case is really well drawn — as he loses his grip on reality, his internal monologue becomes less and less legible, and while it's always expansive, nearly taking up entire panels, toward the end of his arc it begins to turn into dialog with his shadowy paranoid delusion.
The art of Tricked is really the great part of the book. Robinson's skill with paneling is a great complement to the action on each page, and it was a true joy to read. I found myself really dwelling on the artwork.
While the novel ended a little too cleanly for the buildup it has, I overall think it's quite good. I'd recommend it to anyone who likes gritty, yet cerebral, literary comics.