Enchiladas
from Love Real Food, Kathryne Taylor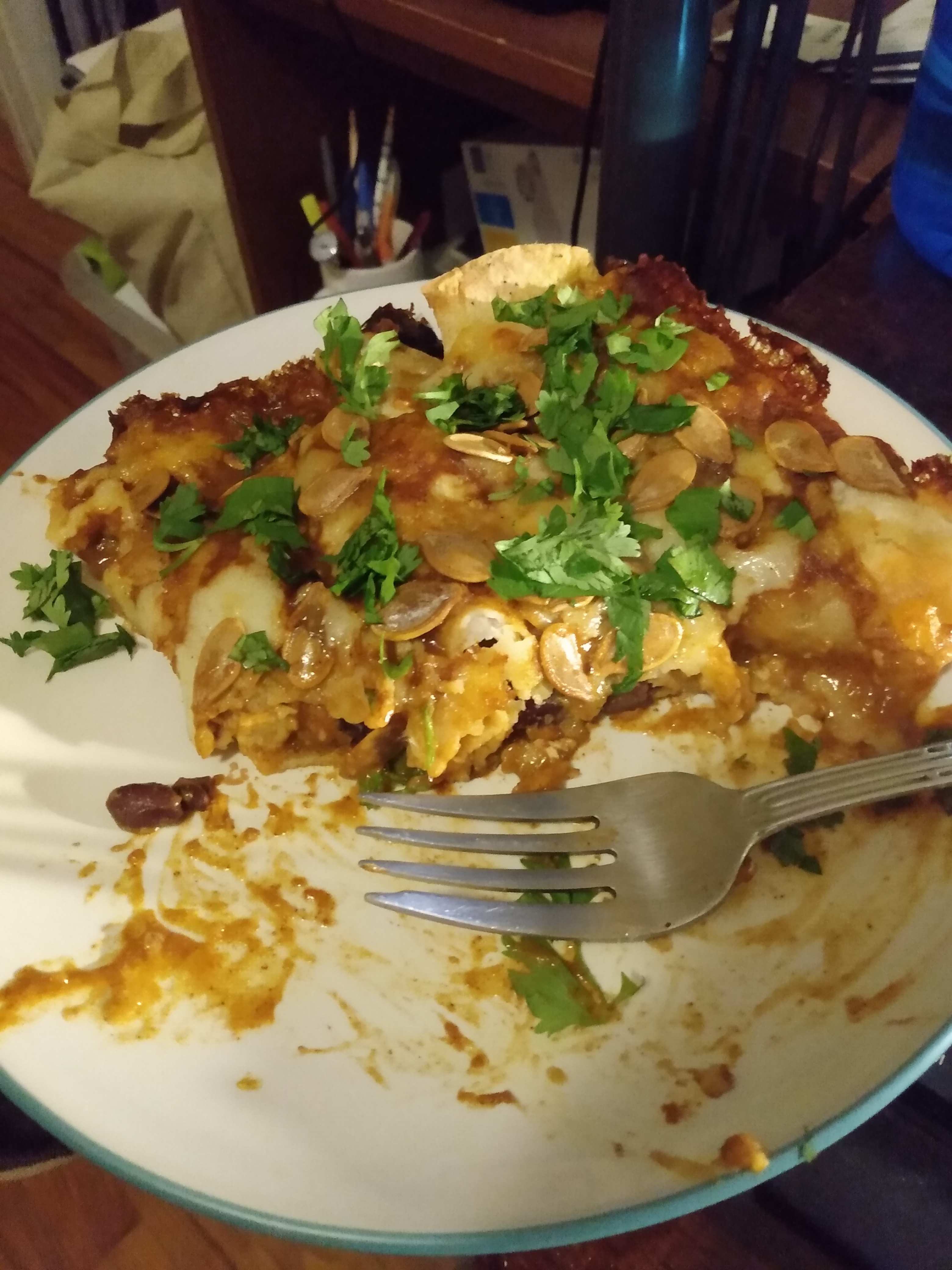 ingredients
roasted veggies
1 large sweet potato, peeled and cut into 1/2-in [1cm] pieces
2 poblano peppers or red bell peppers [I used one of each], cut into 1-in [2.4cm] squares
1 T [idk, some?] extra-virgin olive oil
red enchilada sauce
3 T [45g] whole wheat flour [or GF All Purpose, what I used]
1 T [15g] chili powder
1 t [5g] smoked paprika
1/2 t [3g] garlic powder
1/4 t [like a pinch] sea salt
pinch ground cinnamon
2 T [30g] tomato paste
2 c [473ml] vegetable broth
3 T [45g] olive oil
1 t [5g] apple cider vinegar
enchiladas
2 cans [15oz/460ml each black beans, drained and rinsed
1/3 c [80g] sour cream
1/2 t [2 pinches] salt
8 8-inch [20cm] tortillas [I used corn, but whole grain is good too]
1 c [237ml] Monterrey Jack or Queso Fresco
1/4 c [60g] pepitas
1 avocado, sliced into long thin strips
1 handful chopped fresh cilantro for garnish
method
Preheat oven to 400F [200C] with racks in the middle and upper third of the oven. Line a large rimmed baking sheet with parchment paper. Lightly grease a 9"x13" [22cm x 33cm, or A4 or whatever yall have] baking dish.
Roast the veggies. Combine the sweet potatoes and peppers on the baking sheet. Drizzle them with oil and toss until they're evenly coated, then sprinkle with salt and pepper. Bake on the middle rack for 40 to 45 minutes, until the veggies are tender and caramalized. Leave the oven on.
Make the enchilada sauce. Measure the dry ingredients [flour, chili powder, paprika, cumin, garlic powder, salt, cinnamon] in a small bowl. Measure veggie broth and tomato paste out and put it nearby too. We're making a roux, babeeee
Warm the oil in a medium saucepan on medium heat til it's hot. Pour in the flour and spices. Whisk constantly for a few minutes til it smells toasty and darkens a little.
Stream the broth/paste in there, whisking constantly to avoid lumps.
Increase the heat to medium high, simmer, then turn it back down to keep it at a gentle simmer. Cook, whisking often, for 5-7 minutes, or until the sauce has thickened up a bit.
Remove the sauce from the heat, whisk in the vinegar, and season it to taste with salt and pepper. Set it aside.
Prepare the enchiladas. [This part is a little tricky.] Combine the black beans, sour cream, and roasted veg in a medium bowl. Season with salt and pepper.
Pour 1/4 c [60ml] of the enchilada sauce into the baking dish and tilt it around to evenly coat the bottom.
Assemble the enchiladas. If you're using a corn enchilada, heat it up a bit on the stove so it gets soft and doesn't tear. Otherwise, spread some filling down the middle of the tortilla and wrap the tortilla up snugly. Place it seam-side down against the edge of the pan. Repeat with remaining tortillas and filling. I had some filling left over.
Drizzle the remaining sauce over the enchiladas, leaving the tips of each bare. Sprinkle your cheese over the enchiladas, then the pepitas.
Bake, uncovered, on the middle rack for 20 minutes. Check them and possibly bake for another 3-6 minutes, depending on the yumminess of the cheese.
Remove the enchiladas from the oven and let them cool for 10 minutes. Before serving, top them with avocado and chopped cilantro.
Serve with sourcream if you'd like.
extras
Leftovers store really well for 4 days, chilled. They're also freaking delicious.